The Reading List
Things are already looking up for 2021, thanks to those who helped develop vaccines in record time and the front-line workers who worked tirelessly to stop the spread of the virus that blighted so much of 2020.
On that note of looking ahead, this week we examined where you may want to put your money, whether it's stocks and bonds, works of art or even SPACs. We previewed who will face trials this year, sized up the next test for Hong Kong, and explained how Donald Trump's diplomacy failed to contain the threat from North Korea. We found that we're no closer to solving the mystery of the source of the coronavirus, and that China has some work to do to get people to trust its vaccines. 
Then there's the high-roller headache facing Asia's casino industry, the pressure to deliver facing Mukesh Ambani — Asia's richest man until this week, the best and the rest of the auto industry, and a nice rum-based cocktail to toast the future with. Happy new year! —Adrian Kennedy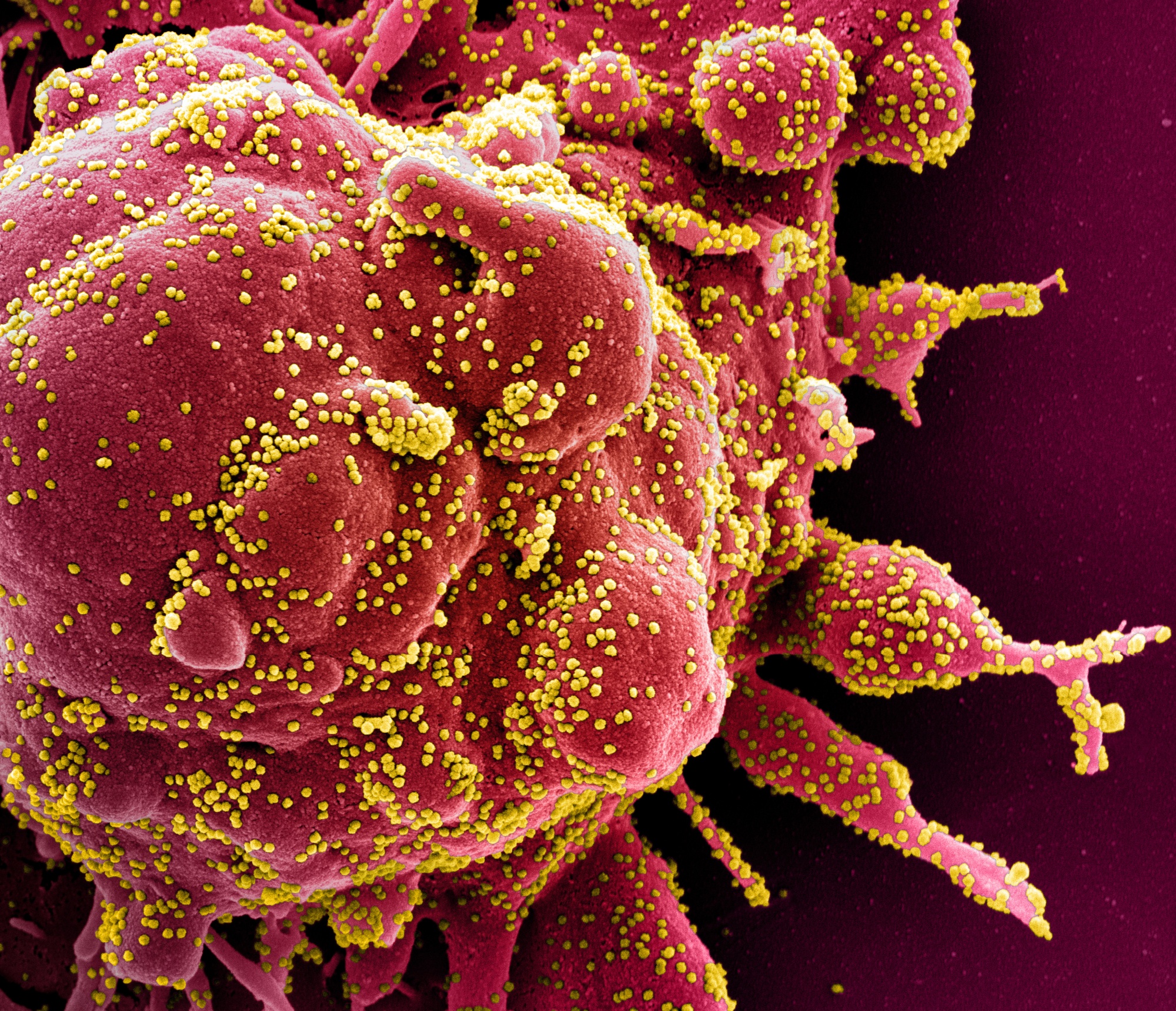 In the year since hawkers started being hospitalized at Wuhan's hospitals, China effectively snuffed out Covid-19 while also ignoring appeals for an independent probe and stalling WHO efforts to bring top infectious disease experts in to Wuhan. Where the pathogen first emerged and how it was transmitted to humans is a stubborn mystery that's becoming more elusive with each passing month.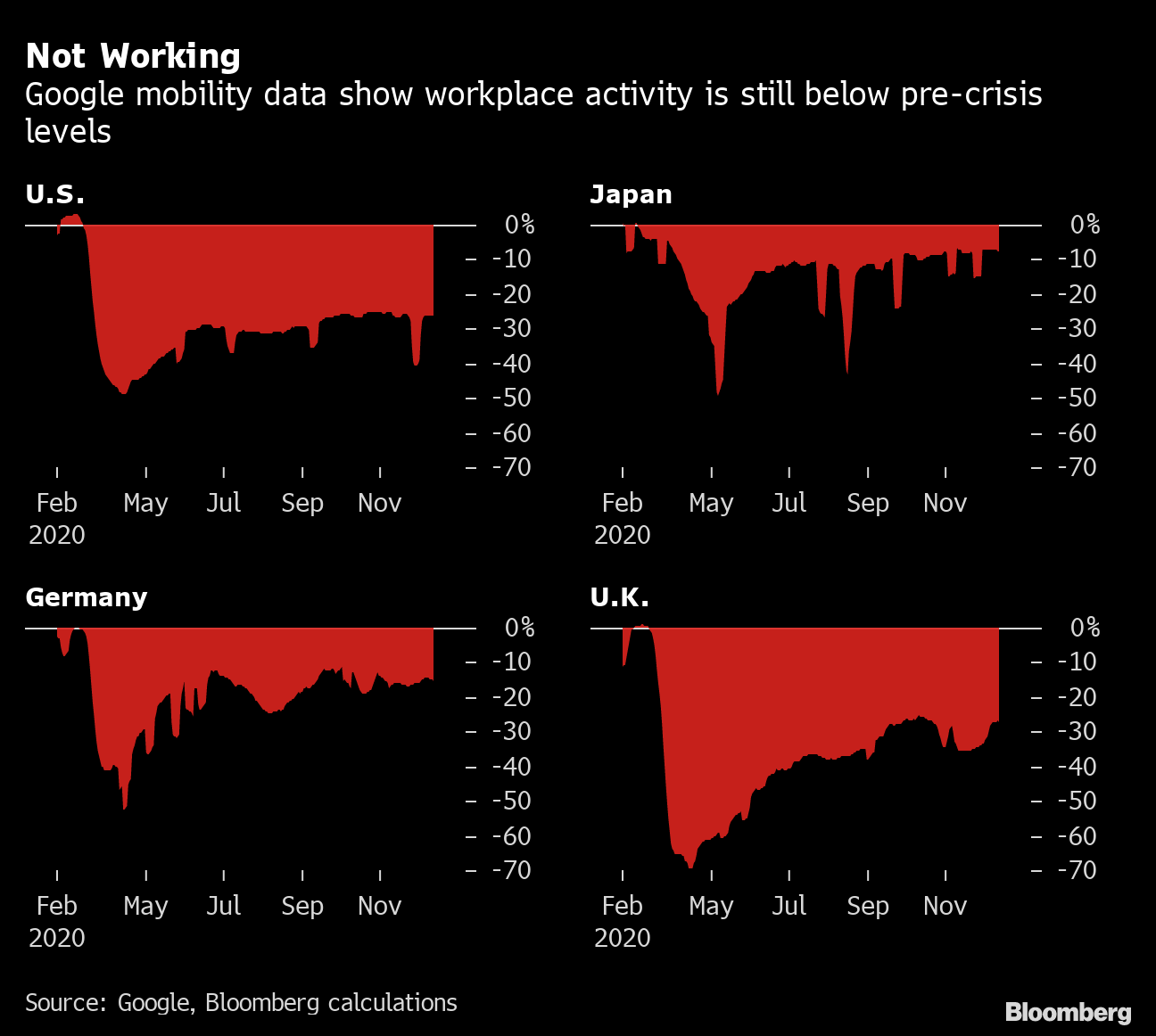 Covid-19 has killed nearly 2 million people and wrecked the health of millions more. It was also an economic shock the like of which only arrives every few generations. From heralding the return of big government to K-shaped recoveries, here's our guide to the ten big changes the pandemic has wrought on the global economy.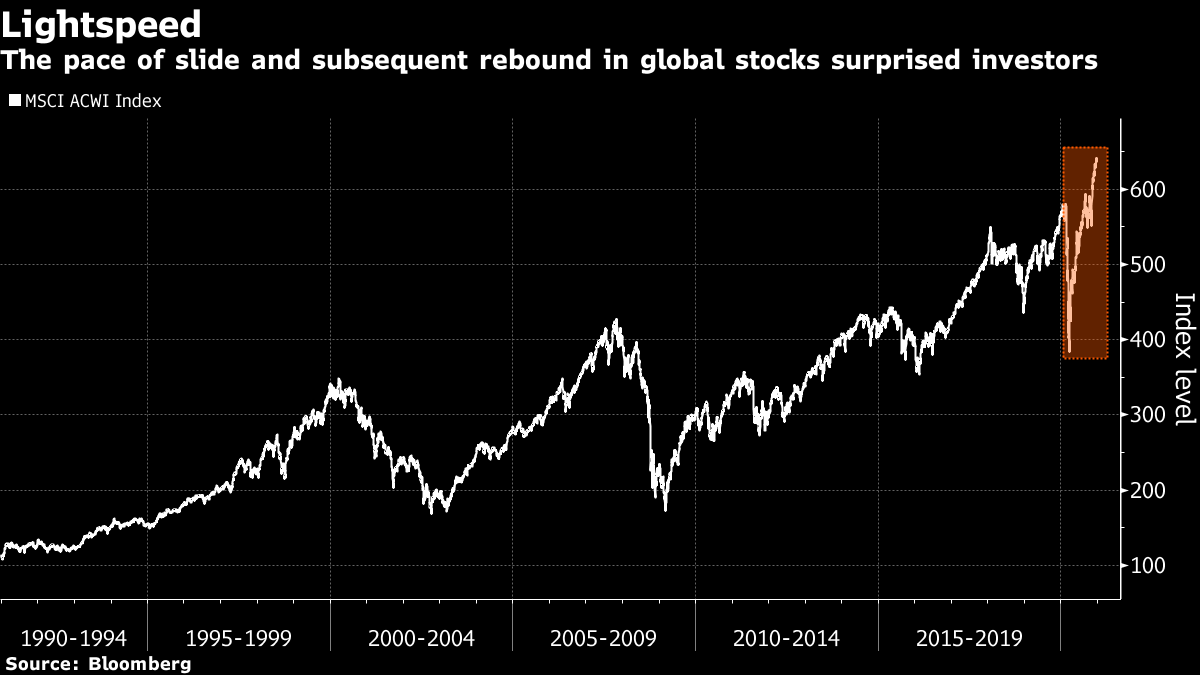 Global stocks fell into a bear market before reaching records in 2020. We talked to experts from BlackRock to JPMorgan Asset Management to find out what may do well in 2021. Expect to hear a lot more about SPACs, with some 200 blank-check companies courting targets who want a listing without the hassle of a regular IPO. They represent some of the hottest investments but also come with risks, as Bloomberg Opinion's Matt Levine points out.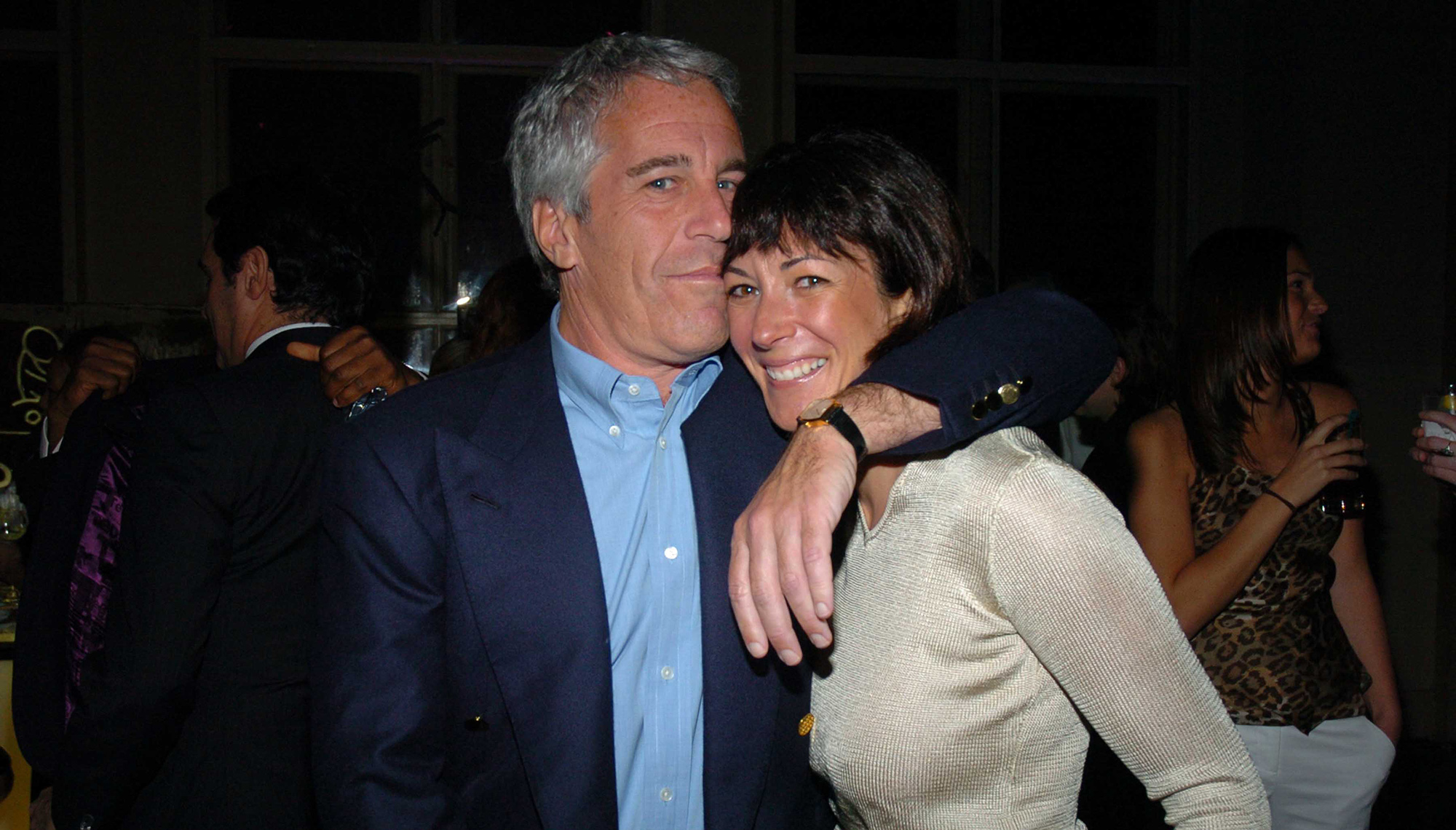 Keep an eye on the court news. Nicolas Sarkozy of France and South Africa's Jacob Zuma are among former world leaders facing trial this year, along with big names like Jeffrey Epstein's former girlfriend, Ghislaine Maxwell, and Theranos founder Elizabeth Holmes. From Colombia to Canada, here's a guide to the biggest court hearings the world will see in 2021.
The high-end art market had a comparatively rough year, with the top 10 deals amassing just $408 million — that's stacked up against the $605 million raised from 10 sales in a single week in May 2019. But trophy art is here to stay, and for several tens of millions of dollars you too https://www.bloomberg.com/news/articles/2020-12-14/what-a-32-million-dinosaur-can-tell-us-about-this-year-s-art-auctions.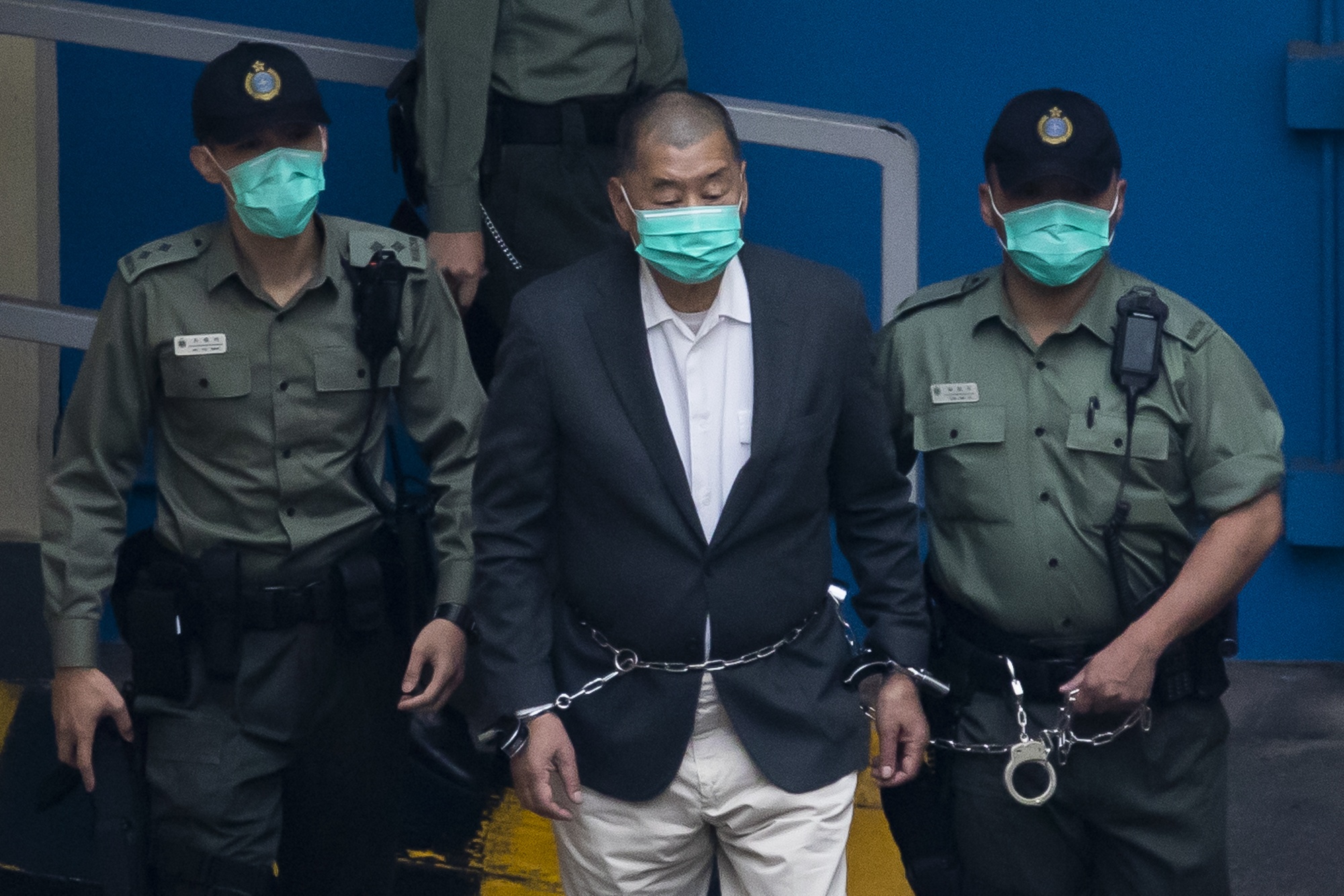 Hong Kong's legal system is increasingly seen as the last check on Beijing's growing power in the former British colony. The trial of media tycoon Jimmy Lai will be a key test of whether the city still enjoys the rule of law and judicial independence that was pledged when China resumed sovereignty in 1997. There are already some bad signs.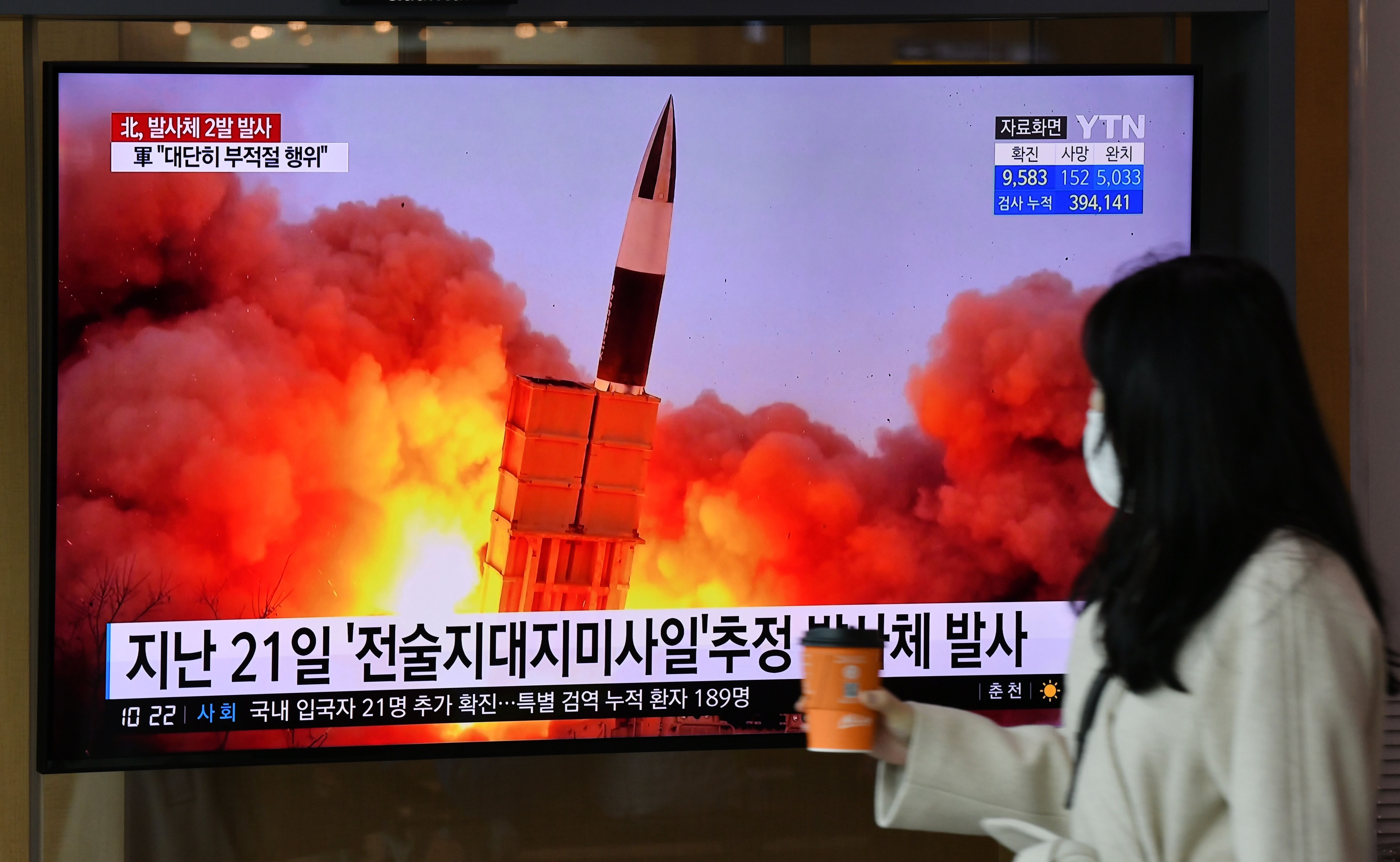 Kim Jong Un may have been out of the headlines lately, but the North Korea that awaits U.S. President-elect Joe Biden is more dangerous and self-reliant than ever before. Advances include at least three different ICBMs that could reach America, and the dictator may flaunt his power more this year.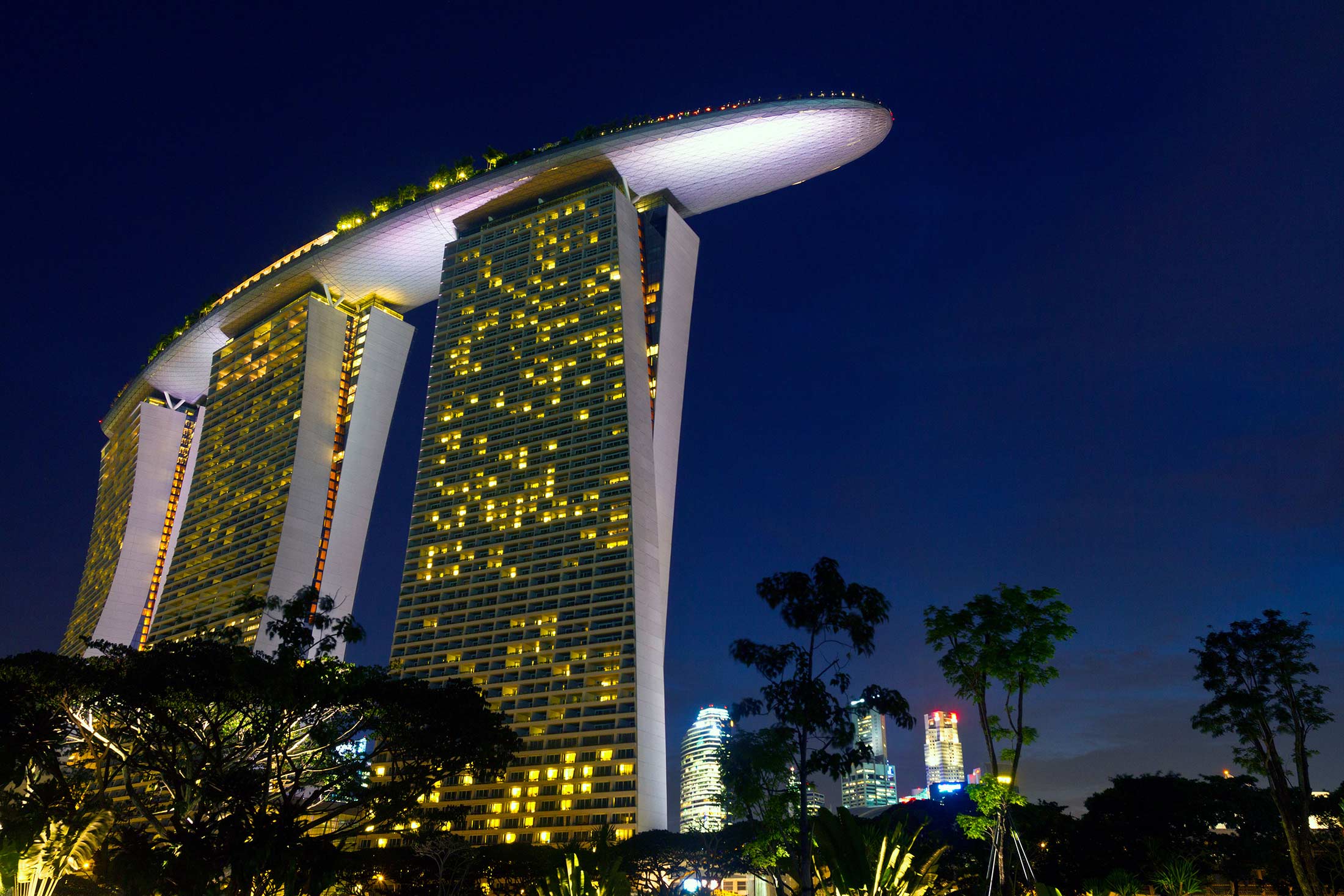 Sheldon Adelson's Marina Bay Sands is a glitzy icon of the Singapore skyline. In June it settled a lawsuit over allegedly unauthorized fund transfers, shining a light on a murky aspect of the business. While Sands has cracked down on the practice, many Chinese big spenders still rely on junket operators to skirt Beijing's curbs on wiring money abroad.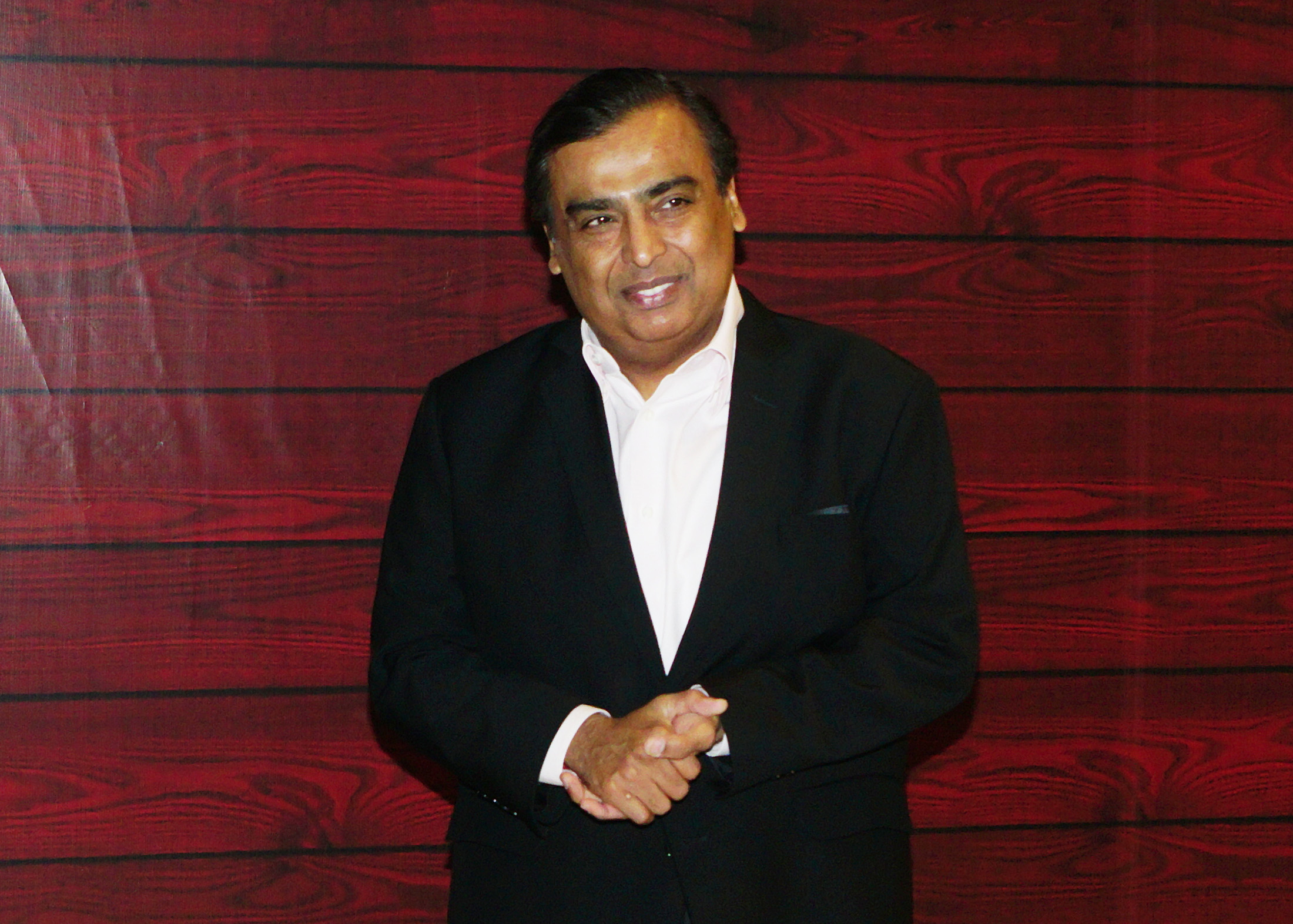 Asia's former richest man, Mukesh Ambani, spent much of 2020 getting Facebook, Google and Wall Street heavyweights to buy into his tech vision, and now he must deliver. The tech tycoon is trying to transform his $178 billion company from an old-economy conglomerate into a tech and e-commerce giant straddling India, but he'll have to contend with competitors like Amazon and Walmart.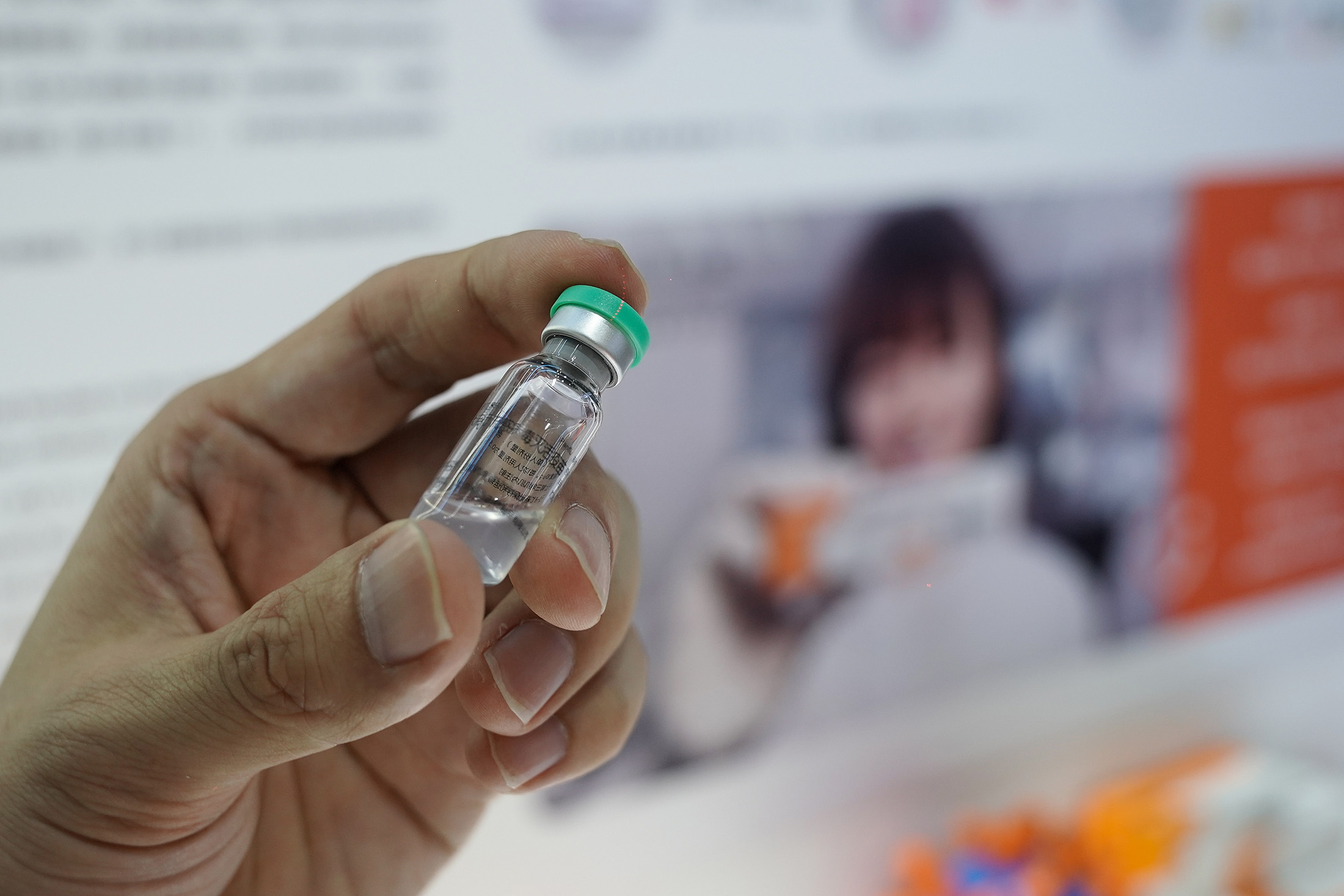 Dozens of poorer nations have turned to China's vaccines to protect their populations from Covid-19, in what should be a clear diplomatic victory for Beijing. But many in countries like Pakistan don't trust a shot that lacks the published data supporting U.S. and European vaccines. It will take a while to bridge that credibility gap.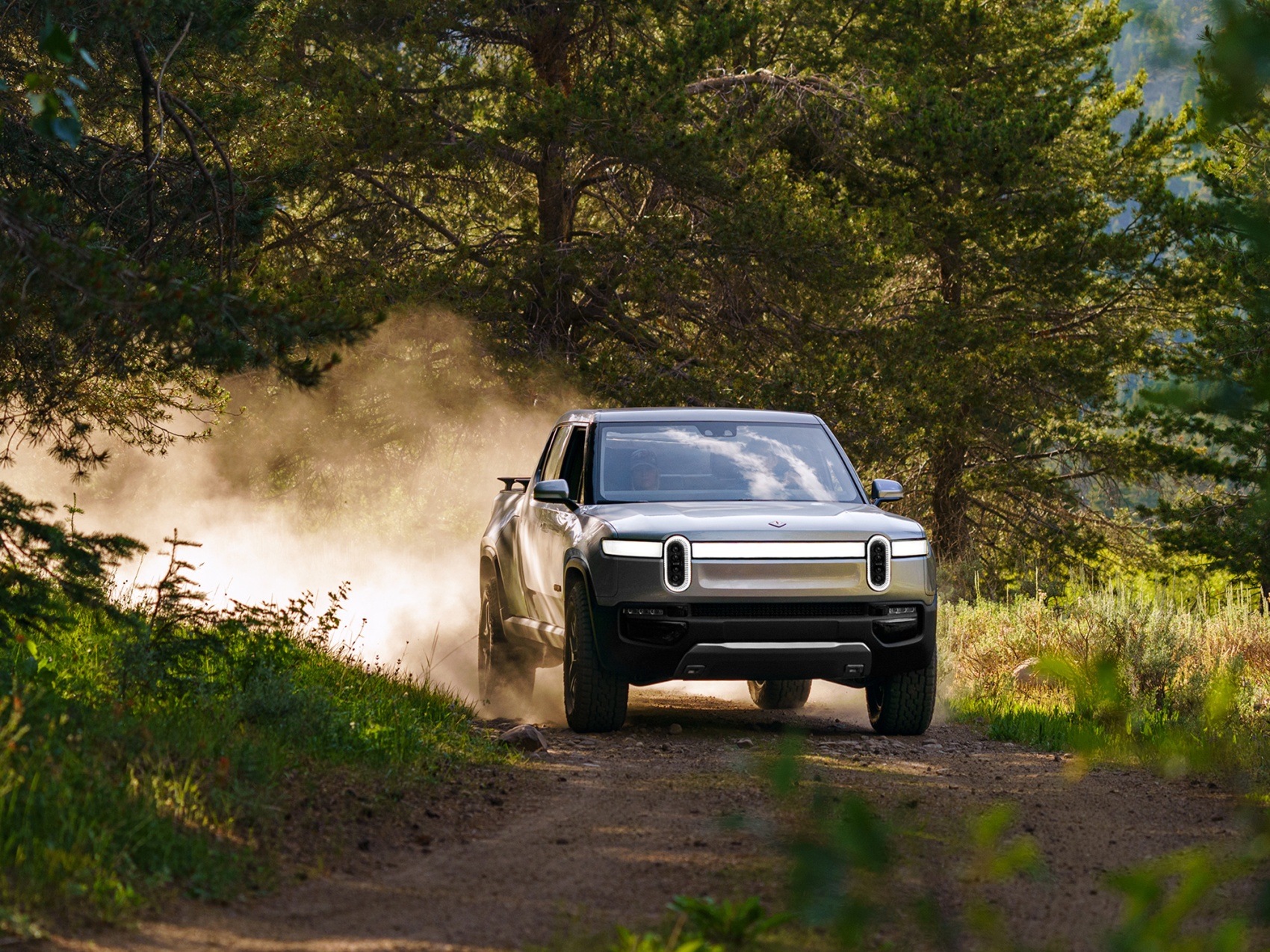 After a grim year for automakers, who's in pole position for 2021? Hyundai and Porsche had a good year, writes Bloomberg's Hannah Elliott, while Nissan and Jaguar Land Rover were also-rans. Tesla is having a good run, but startup Rivian and old-timers Ford and GM are on the inside track for the next big bonanza in auto sales: electric pickup trucks.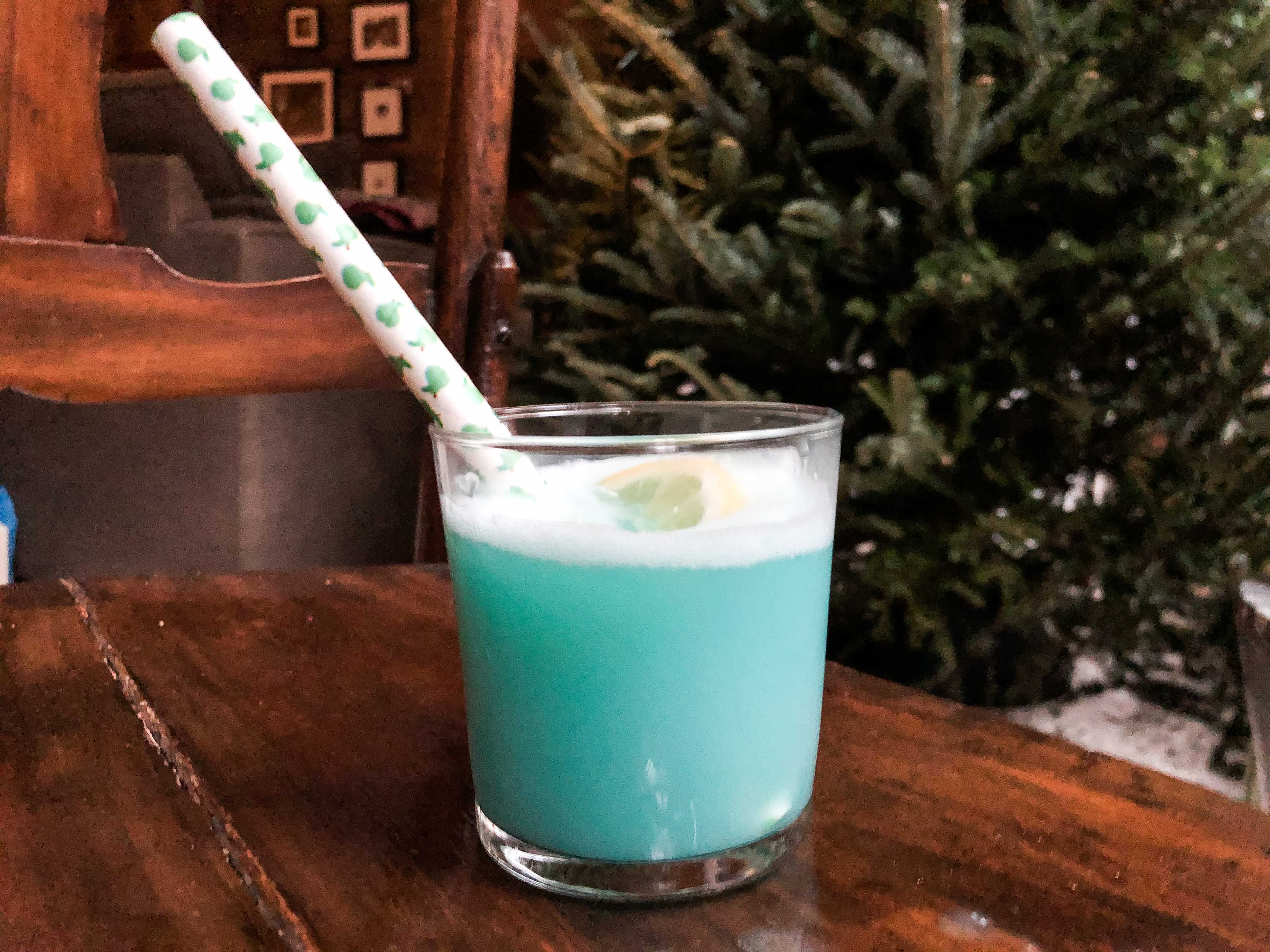 We'll end with a perfect pandemic holiday cocktail: the Shark, which blends two kinds of rum with blue curacao, Frangelico, pineapple juice, and a dash of heavy cream. It may not cure a New Year's Day hangover, but it's a classy way to start January from John deBary, a mixologist and founder of the Restaurant Workers' Community Foundation, which has raised $7.25 million for pandemic relief.
You received this message because you are subscribed to Bloomberg's The Reading List newsletter.
Unsubscribe | Bloomberg.com | Contact Us
Bloomberg L.P. 731 Lexington, New York, NY, 10022